The Pittsburgh Steelers. The most feared team this decade - let alone NFL history. The big question is:
Can they, once again, prove themselves an elite football squad?
Division-
The Cincinnati Bengals- In 2009, Marvin Lewis, the head coach of the Cincinnati Bengals, lead them to a 10-6 season. Lewis won the NFL Coach of the Year award that season. That same season, the Bengals swept the AFC North (Steelers, Ravens, and Browns). They lost to the Jets in the Wild Card round of the playoffs. Since then, it is fair enough to say that the Bengals have reeked.
Now, the Bengals are in the "rebuilding" process drafting QB Andy Dalton and WR AJ Green. Prior QB Carson Palmer pretty much left the Bengals to rot this offseason.

The Cleveland Browns- Recently, nothing has been going in favor of Cleveland. LeBron left the Cavaliers, who ended up going a dreaded 19-63. The Cleveland Indians have not been good since their 2007 run to the American League Championship against the Boston Red Sox. Now they are in the rebuilding process just like the Cincinnati Bengals.
Just like the Cavs and The Tribe, the Browns are not looking too
strong. They used to be a dominant force during the "Jim Brown" era and the "Kardiac Kids" era. During the Jim Brown era, the Browns made a run to the Championship game. They lost to the Detroit Lions. During the Kardiac Kids era, their great record was almost topped off by a win against the undefeated Miami Dolphins. They were the closest team to beating that incredible 17-0 Miami Dolphin squad. Since then, the Cleveland Browns have not been too hot.
Baltimore Ravens- In 1995, the Baltimore Ravens came into existence. The very next year, Hall Fame caliber offensive tackle Jonathan Ogden was selected fourth overall in the NFL draft followed by Linebacker Ray Lewis who was drafted just 22 picks later. The Baltimore Ravens's first four years as a gang were not too great. In 2000, Baltimore took the title as Super Bowl champions. Rod Woodson, former Hall of Fame Steeler, and Sam Adams were elected to play in the Pro Bowl that same season along with Defensive Player of the Year Ray Lewis. Since then, the Ravens have been feared as one of the most elite defenses in the NFL.
Steelers Offensive Starting Lineup-
QB- Ben Roethlisberger is most likely a future Hall of Famer. He has always been clutch in the 4th quarter and is known for his powerful arm that can catch any defense off guard. Roethlisberger has not had a bad season yet in his semi-lengthy career. This season he is projected over 4000 passing yards and 25 touchdowns.
Grade: A-
HB- Young Rashard Mendenhall had an unimaginable season last year. He was taken as the Steelers's 1st pick in the 2008 NFL draft. In his rookie season he was injured instantaneously leaving him out for the year. His next season he ran for over 1000 yards and 7 touchdowns. Lat year, he ran for 1200 yards and a whopping 13 touchdowns. This season he is projected once again 1200 yards and 13 touchdowns.
Grade: A
FB- David Johnson is rarely ever used because of Mendenhall's incredible power. The Steelers have no real full back. They only use half backs. This is why they list Johnson as a tight end this season. If they have to place a player in the full back position it would be Johnson though.
Grade: D
WR- Mike Wallace had a break-out season last year. During his rookie season, the Steelers spotted talent in the young fellow. They realized that he can compliment Roethlisberger's outrageously strong arm. He led the AFC in yards per reception. Last season, Wallace caught for 1200 yards, 10 touchdowns, and led the NFL in yards per reception. This season he is projected 1300 yards and 8 touchdowns. Veteran wideout Hines Ward will retire within the next five or six years and make it to the Hall of Fame, but for now, he is still an NFL elite player. His blocking skills still place him as the best blocking wide receiver in the NFL. Ward is know for being a champion at everything he does, including dancing (2011 Dancing With the Stars winner). Ward is projected just about 700 yards and 5 touchdowns this season. The 3rd starting wide receiver is Antonio Brown. Look out for this young sophomore. His projections are low, but this preseason he is leading the AFC North in reception yards and touchdowns. He also made a clutch catch against the Ravens in the AFC Championship game placing the Steelers in the Super Bowl last year.
Grade: A-
TE- As they say,
"When in doubt pass to Heath." Heath was taken as the Steelers's 1st pick in the 2005 NFL draft. He has always been Roelisberger's most reliable target (possibly even more reliable than Ward). He is projected 550 yards and 3 touchdowns. The Steelers need Heath's help this upcoming season with protection because of the teetering O-line.
Grade: C+
Offensive Line- In the mind of a Steeler fan, the O-line is the most frustrating factor of the team. Yes they do have Pro Bowlers Maurkice Pouncey and Willie Colon, but they also have Chris Kemoeatu, Doug Legursky, and Ramon Foster. Chris Kemoeatu replaced the irreplaceable Alan Faneca in 2008. Kemoeatu's holding count went overboard last year while Doug Legursky and Ramon Foster will be receiving their first job as starting offensive linemen this year. Blocking for Mendenhall is not the problem. The O-line can do that with ease. The real problem is protecting Big Ben. Roethlisberger has been sacked and injured way too many times in the last four seasons in fault of the O-line. If the Steelers want to make another run for the Super Bowl Kemoeatu, Scott, and Foster need to play like fellow teammates Pouncey and Colon (if possible).
Grade: C-
Steelers Defensive Starting Lineup-
Defensive Line- Across the line from right to left goes Brett Keisel, Casey Hampton, and Aaron Smith. You cannot have a more veteran "steel curtain" than this one. Brett Keisel is 32 years old, Casey Hampton is 34, and Aaron Smith is 35. You can pretty much say that this line owns the team. Smith is the eldest player on the whole squad. This is why the Steelers picked Cameron Heyward as their first pick in this year's NFL draft and also selected Ziggy Hood as their first pick in the 2009 draft. There is a chance that Ziggy Hood will start this season over Aaron Smith. It will be a last minute decision. Despite the fact that the D-line is reaching the rebuilding process, they still have some elbow grease left. This is why the Steelers's defense is, once again, projected to be at the top of the NFL.
Grade: B+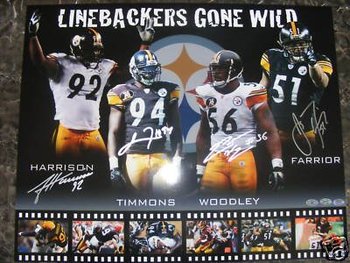 Linebackers- The most dominant aspect of the Steelers is by far, without any question, their linebackers. They have too many good linebackers. This is a problem because they want to give young prospect Jason Worlids and veteran Larry Foote some reps. Other than that, some might say that this is the most dominant set of linebackers in NFL history. Starting at left outside linebacker is LaMarr Woodley. Woodley was just signed a 6 year $61.5 million contract! Some might say that he is the heat and soul of the Steelers's linebackers with his incredible capability to sack a quarterback. Next, playing left inside linebacker is James Farrior. He is the worst out of all of their starting linebackers, yet if he were to be placed on any other roster, he would possibly be the best. Young Lawrence Timmons starts at right inside linebacker. He was drafted as the Steeler's 1st pick in the 2007 NFL draft. He had a break-out season last year with 135 tackles! This is why the Steelers rewarded him with a 6 year $50 million extension. Last but not least, James Harrison. He will, like usual, be starting as the right outside linebacker. Harrison is pretty much the most dangerous and feared player in the NFL. He is also one of the best. His sack count goes off the charts every season. This is why he is one of the most valuable players on the Steelers. If anything, these incredible linebackers will play better this year than ever because they all have experience now.
Grade: A+
Cornerbacks- Ike Taylor is one of the most consistent cornerbacks in the league. He has only missed three games in his eight year career. His tackle count is always above 50 (high for a cornerback) and always gets multiple interceptions every season. His average pass deflection per game is 0.98. That is pretty much one per game. On the other hand, Bryant McFadden is unreliable. Before every game, it is announced that one of the key factors for the Steelers's opponent is attacking Bryant McFadden. This is why William Gay may receive a starting role this season instead of McFadden.
Grade: B
Safeties- The Steelers own the best defensive player in the NFL. Troy Polamalu will be starting at strong safety. His ability to view the field, read the quarterback's eyes, and then attack is unnaturally sick. He is getting older though so let's see if he can still be the same player who has has always been. Starting at free safety will be Ryan Clark. Last year he had an incredible 90 tackles along with 2 interceptions. Just like Ike, he is a solid, constant, and reliable player.
Grade: A
Coaching Staff-
Young head coach Mike Tomlin is already an NFL elite coach. Raters place him as the second best active coach (behind Bill Bilichick). Tomlin has already won coach of the year and made it to the Super Bowl twice. In his four years of being the head coach he has led the Steelers to a 10-6 season, a 12-4 season, a 9-7 season, and another 12-4 season. Those are great records. Unarguably the best defensive coordinator of all times is Dick LeBeau. Since he was assigned as the Steelers's defensive coordinator, the points allowed per game is roughly 18 points. Bruce Arians is the offensive coordinator of the Steelers. Arians started his NFL coaching career as the Colts's quarterback coach. Peyton Manning's career started off with a big bang because of Arians. In 2007 the Steelers assigned him as their offensive coordinator. Since then, the Steelers have only been heading in the right direction.
Grade: A
Overall Grade: A-
Predictions Based On Schedule-
The 2011 schedule for the Steelers looks remarkably easy. It starts out somewhat tough, but it gets more and more unchallenging as the season goes on.
Week #1: Ravens (away)
Loss
Week #2: Seahawks (home)
Win
Week #3: Colts (away)
Win
Week #4: Texans (away)
Loss
Week #5: Titans (home)
Win
Week #6: Jaguars (home)
Win
Week #7: Cardinals (away)
Win
Week #8: Patriots (home)
Loss
Week #9: Ravens (home)
Win
Week #10: Bengals (away)
Win
Week #11: Bye Week
Week #12: Chiefs (away)
Win
Week #13: Bengals (home)
Win
Week #14: Browns (home)
Win
Week #15: 49ers (away)
Win
Week #16: Rams (home)
Win
Week #17: Browns (away)
Win
Overall Record: 13-3
This Is Got Sports Blog Writer Jordan Kahn.
"It's not ridiculous...it's Got Sports"